29 Nov

Hot Pink Snails–Art Basel

OH MY GOD!!! THEY ARE COMING FOR US!!!

THE SNAILS HAVE INVADED MIAMI…..AHHHH…..OUUUU…..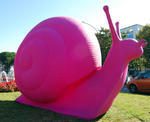 Renzo Nucara, the founder of Cracking Art Group has taken an environmental stance on art. The 45 gigantic hot pink snails made of recycled plastic will be appearing through-out Miami Beach
The snail was chosen because:
• It carries its shelter on its back, evoking a sense of living and place.
• The snail and shell are shaped in a spiral like an ear, urging people to listen.
• The snail and shell are also shaped like the @ symbol seen in e-mail addresses — Italians call the sign a snail — and refers to digital communication.
Nucara said recycled plastic, taken from landfills, is key to the symbology of the group's art.
I saw them this past weekend on the Venetian Causeway and they are BEAUTIFUL!! Very reminiscent of seeing Christo's work as a child in the hip and happening Miami of Miami Vice days–
Enjoy,
Cruz the Muse